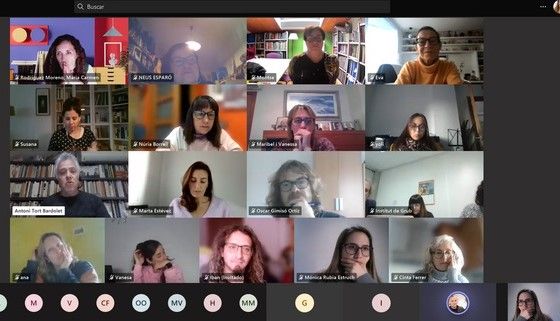 The Teachers Induction Programme: useful and promising fieldwork in the framework of the LOOP project in Spain
The implementation in Catalonia (Spain) of the Teachers Induction Programme was carried out with 21 mentors and 24 new teachers from 7 educational centres from all over our territory. They are, on the one hand, nursery and primary schools and, on the other hand, secondary schools. The schools/institutes that participated in the project were: "El Torrent de las Bruixes", Escola "La Mercè", Institut "Joan Oró, Institut-Escola "El Temple", Institut "Antoni Martí I Franqués", IE "MdD Portal", and the school La Canaleta". Todos los centros están situados en Cataluña, en la provincias de Barcelona, Tarragona y Lérida.
The training was conducted virtually due to the distance between the schools and the time availability of the teachers. All the training took place from February to July with a total of 7 sessions. In general terms, we can say that all the schools value the training very positively because they consider it an essential training for future teachers. Being a teacher is a complex profession and it is necessary to be accompanied during the first year in order to establish a solid practical basis for training competent teachers who are committed to education and today's society. The materials generated in the LOOP project have been valued as useful instruments, not only for the training of new teachers, but also as elements of interest for the training of the school as a whole and for the individual and collective growth of all the teachers who form part of the school's teaching staff.